Meet the Author
John R. Erickson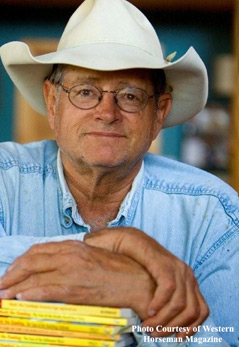 John R. Erickson has written and published 75 books and more than 600 articles, and is best known as the author of the Hank the Cowdog series of books, audio-books, and stage plays.
His stories have won a number of awards, including the Audie, Oppenheimer, Wrangler, and Lamplighter Awards, and have been translated into Spanish, Danish, Farsi, and Chinese.
The Hank the Cowdog series began as a self-publishing venture in his garage in 1982 and has endured to become one of the nation's most popular series for children and families. Through the eyes of Hank the Cowdog, a smelly, smart-aleck Head of Ranch Security, Erickson gives readers a glimpse of daily life on a ranch in the West Texas Panhandle. USA Today calls the series "the best family entertainment in years."
John Richard Erickson was born in Midland, Texas, on October 20, 1943, to Joseph W. Erickson and Anna Beth Curry Erickson, the youngest of three children. In 1946, the family moved to Perryton, Texas, in the northeastern Texas Panhandle. . .
John started first grade in the Perryton school system and graduated from high school in the class of 1962. He has described himself as a lazy student and a reluctant reader. He ran track (high hurdles) and played varsity football, sang in the choir, played bassoon in the band and drums in the stage band, and taught himself how to play the five-string banjo. He participated in speech events (debate and extemporaneous speaking), and played lead roles in several school plays.
His talent for writing went unnoticed until his senior year in high school, when his English teacher, Annie Love, made the class write an original poem. Erickson found that it was easy for him. For the rest of the year, he stayed up late at night, writing poems for Mrs. Love.
Erickson attended the University of Denver for a year, then finished his B.A. degree at the University of Texas in Austin. For two years, he studied theology at Harvard Divinity School and left three hours short of a master's degree. At UT, he met his future wife, Kristine Dykema, and they were married in Dallas in 1967.
During the years 1974-1981, John worked as a ranch cowboy in Oklahoma and Texas. There, he found a balance between hard physical work and the intense, concentrated effort of writing four hours every day. He wrote novels, short stories, articles, plays, essays, and book reviews. When he sent them off to publishers, most came back with rejection slips.
In 1982, after fifteen years of failure and frustration, he and Kris started their own publishing company, Maverick Books, in their garage in Perryton, and brought out the first Hank the Cowdog book in 1983.
Today, more than 30 years after its modest beginnings, Maverick Books is once again Hank's official publisher, and is still located in Erickson's hometown of Perryton. Publishers Weekly calls the Hank the Cowdog series a "grassroots publishing phenomena," and, to date, the series has sold over 9 million copies.
From the start, John intended for the Hank stories to be read aloud, and one of the unique features of the series is that he has recorded all stories in the audio-book format, performing all the character voices himself and composing two original songs for each episode.
For more than thirty years, Erickson has worked hard to maintain the highest standards of good, wholesome family entertainment. In doing that, he has built a bond of trust with parents, librarians, and teachers, and all his stories have been approved for the Accelerated Reader Program. He has appeared in thousands of schools, from Fairbanks, Alaska, to Key West, Florida, and has been a popular speaker at conventions of teachers, librarians, and homeschoolers. And, in 2019, John was inducted into the Texas Literary Hall of Fame.
John and Kris live on their cattle ranch near Perryton, Texas, and stay in touch with the world through the Official Hank Website www.hankthecowdog.com. They have three grown children (Scot, Ashley, and Mark) and four grandchildren.
A more detailed biography of the author can be found on Wikipedia, and be sure to visit Hank's Blog!
Read More
Visit the Blog
Upcoming Appearances
Get in Touch
John R. Erickson
Maverick Books, Inc.
PO Box 549
Perryton, TX 79070