Stage Plays
Original plays featuring Hank the Cowdog.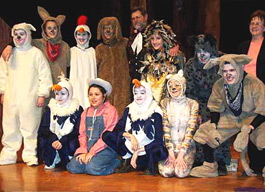 Since 1983, Hank the Cowdog has been the star of one of America's most popular series of humor books and books-on-cd. Now, he is moving to the stage and Maverick Books, Inc. is proud to offer a selection of plays for your theater, with original songs by John R. Erickson and the same wholesome entertainment that families have enjoyed in more than six million books.
We invite you to browse through our selection of musical comedies. If you would like to have more information, contact our office at 806-435-7611, or email using the form on each Stage Play page. Send us your contact information (name, theater name, phone number and the play you're interested in reviewing), and we'll send you a perusal script.
In addition to providing you with the script, a CD of the songs, and sheet music, Maverick Books will also provide your group with a great fund raising opportunity, selling Hank merchandise before and after the performance.